There will be a Rally for Kyoto on March 11th, 2007 at 12 noon at Nathan Phillips Square, Toronto in support of Canada fulfilling its obligations under the Kyoto Protocol to cut greenhouse gases. The rally is organized by Canadians for Kyoto, and is sponsored by a wide variety of groups including the World Wildlife Fund, the Ontario Federation of Labour, Sierra Club, Greenpeace, Canadian Youth Climate Coalition and the Educators for Peace and Justice.

Speakers at the rally include John Bennett, Executive Director, Climate Action Network; Keith Stewart, Climate Change Campaign Manager WWF Canada; Jose Etcheverry, Research and Policy Analyst, Climate Change Program, David Suzuki Foundation; Cameron Stiff, Founding Member, Canadian Youth Climate Coalition, Olivia Chow MP and Maria Minna MP. Politicians from all parties have been invited and Juno award winners Richard Underhill, Madagascar Slim, Matt Barber, and a very special platinum selling musical guest will be among the musical entertainers.

Canadians for Kyoto urge everyone to come out with friends and family to show their concern about climate change and to call for Canada to fulfill its international obligations and take positive action to reduce greenhouse gas emissions. The Canadians for Kyoto website is at http://www.canadiansforkyoto.com

People are encouraged to make their own signs for the rally. Canadians for Kyoto have organized two sign making events for anyone who would like to attend at the Ralph Thornton Centre at 765 Queen St. East, two blocks east of Broadview Avenue, on Thursday March 1st, 6 to 9pm (over), and Sunday March 4th, 10 am to 12 noon. If you have materials you are asked to bring them. If anyone would like to volunteer to assist with organizing and publicizing the rally go to http://www.canadiansforkyoto.com/volunteers.html

This page is also where you can download posters and emails for the rally and view our group events listing.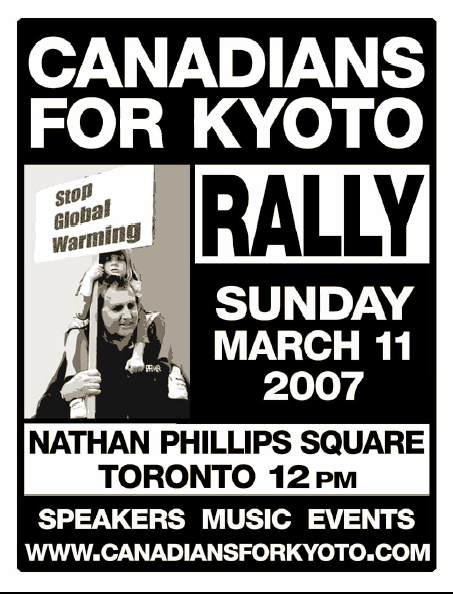 x-posted to my community
actionalerts